Well I can see that this community isn't really all that active but I thought I would (re)-join.
I used to drive an '83 tercel, which commited suicide about two years ago. I then drove a corolla, as well as a camry. UNTIL this July, when to my surprise I randomly saw my dream car sitting in a car lot here in my home town.

My yellow celica was bought the day after. I love her. Has anyone had any experiance tuning a GT? It's not all that fast stock and I'd really like to turbo it. The transmission in these cars are fantastic. So I've heard anyways. I plan on chipping it in the near future because well hey, it's an automatic hp gain right?

But anyways...this is my baby.
2002 Celica GT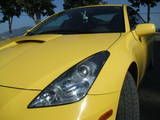 more under the cut.I love her haha.